The Compass - Winter 2014 -
Click here to download the PDF
LEAVING A LEGACY - THA Architecture, Inc.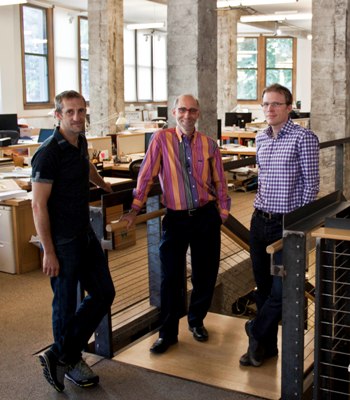 Sustainability can be an overused word in the Northwest, but Jonah Cohen, Managing Principal at THA Architecture, believes the term is ultimately about focusing on life. Oregon's legacy is its quality of life and natural beauty - this is what continues to attract people to the state from across the globe, and it is precisely why Jonah moved to Oregon from New York over 40 years ago. Today, THA's business philosophy mirrors these ideals.
THA specializes in public works and educational buildings, and aspires to create enduring places they hope will be well-loved by their communities. Their portfolio includes all of the Multnomah County branch libraries, as well as many museums, theaters, educational facilities and numerous civic and residential buildings throughout the West. To show for their talents, the firm has won the 2013 AIA Northwest and Pacific Region Firm of the Year.
"If a building is loved, it will last and manifest new uses for many generations," Jonah says. That sustainable optimism is threaded throughout the firm's work culture and in every project they do. From the historic building they remodeled to be their studio office, to the way they honor their employees - "legacy" is a clear value. The future is paramount - which is why each new baby is celebrated as a member of their extended family and why the firm is noted for their broad and proactive strategy for cultivating new and future leaders.
Part of THA's legacy is its own historic structure in downtown Portland. The Balfour-Guthrie building on SW Park and Oak Street celebrates its 100 year anniversary this year. Formally a rubber stamp factory, THA beautifully renovated the building into an open two-floor workspace that maximizes collaboration and celebrates its natural and historic elements. Exposed concrete beams still have the original texture from old-growth timber form work, while glass walls reflect natural light to the basement - connecting the past to the present in a beautiful manner.
And that simple, thoughtful approach is why THA works with Lewis & Clark Bank. Understanding the local landscape and community is an important step in creating a legacy, which is why THA moved to a highly-capable local bank. Because in banking, like in architecture, the qualitative factors can be just as significant as the quantitative.
To learn more about THA Architecture, visit thaarchitecture.com.
JOINING THE TEAM
Lewis & Clark Bank is pleased to announce the hire of two new employees, William Castle and John Davis. While both hires are officially new to Lewis & Clark Bank, both men are long-time veterans within Oregon's banking landscape.
Castle, as SVP/Southern Oregon Area Manager, a career community banker and former bank CEO, will focus on further expanding Lewis & Clark Bank's presence in Central and Southern Oregon. "Bill is well known in both the community banking industry and the Central and Southern Oregon markets," noted Co-President & CEO Jeffrey Sumpter. "His insight and experience will be extremely valuable as we focus more attention on key markets in Oregon that no longer have a traditional community bank to serve local residents and businesses."
"Joining a community bank, like Lewis & Clark Bank, is very exciting. The state of Oregon needs more banks that can provide the personalized service and attention that Lewis & Clark can offer," said Castle, "and having known for many years the people who founded and work for the Bank, an opportunity like this couldn't be more thrilling professionally."
Davis, SVP/Information Technology Director, most recently served small to medium-sized community banks through his own independent firm for over a decade, including Lewis & Clark Bank since its founding in 2006. Other career highlights included banking positions such as Teller, Operations Manager, Senior Support Officer, and Information Technology Manager. With 30 years of bank operations and IT experience, Davis brings extensive knowledge of banking information systems and a unique perspective on the industry.
Davis looks forward to the opportunity to devote more time to scaling the bank's information capabilities. "It's exciting," Davis said. "Lewis & Clark Bank is growing. In order to do that successfully, we need a stable, scalable infrastructure. Being here full time will facilitate that."
"Owning and operating a business gave me the opportunity to experience both challenges and opportunities I wouldn't have otherwise," Davis said of his prior experience running an IT firm. "It's an environment where, because of the number of clients you have, you're exposed to an enormous amount of information, which is very helpful in my job."
But Davis, whose start in the industry was as a teller, is quick to point out that financial services is as much a part of his DNA as information technology. "Before I got into IT, I spent many years behind the teller line, approving checks," he said. "So you could say banking is in my blood."
HOLIDAY "HOT" CARDS LEFT HOLIDAY SHOPPERS OUT IN THE COLD
Did you shop at Target this holiday season? If you did, your credit card information may have been stolen in a digital heist of epic proportions - all told, up to 70 million accounts may have been compromised.
As a bank, in cases like this we must ask ourselves, "What can we do that is in the best interest of our clients?"
Many banks and credit unions responded promptly to the security breach. Most, immediately cancelled the "hot" cards, called their customers to alert them of the breach, and sent new cards in the mail. While that response from financial institutions certainly protected their customers, it also put the shoppers in a pinch. While waiting for their new cards to arrive, many were left without purchasing options just days before Christmas. In a few cases, customers found out about the data breach at the cash register when their card was declined.
Our response was a bit more personal and appropriate for the threat level at hand. Lewis & Clark Bank clients who had their card breached by the Target incident received a phone call from us alerting them that their card number was used in the timeframe of the theft. We made these calls to help confirm that the purchases made were by our client. We also re-ordered and mailed new cards to clients. However, our clients' cards remained open the entire time, under constant watch for any suspicious behavior, until the new cards were received and activated. This way Lewis and Clark Bank customers could still do their shopping leading up to and through the holiday.
If you have any questions or concerns about your cards or the measures we take to ensure your privacy, please feel free to contact us today.
EVENT
Tom Potiowsky Talks Oregon's Economy & Manufacturing Re-Shoring
Lewis & Clark Bank is thrilled to announce the return of our Strategic Business Series on February 24th, 2014, featuring Thomas Potiowsky, the chair of the Economics Department at PSU and Director of the Northwest Economic Research Center (NERC), and former State Economist of Oregon.
This session's discussion will be the third annual presentation from Mr. Potiowsky to our Lewis & Clark Bank clients and friends. The previous two events have focused solely on forecasting the upcoming fiscal year for the Oregon economy. This year he will provide those insights again. However, just for us, he will be adding unique information from the research of his NERC team about the prospects of re-shoring manufacturing companies to US soil, particularly to Oregon sectors, and what additional impact that could have.
How are you improving your fiscal strategy this year? Business owners and citizens alike can benefit from an event like this and the perspective of an expert, like Mr. Potiowsky.
More About Mr. Potiowsky:
Tom was appointed as State Economist in 1999 through 2006 and again in 2008 through 2011. He brings years of experience taking complicated economic analysis and results, and turning it into a meaningful, understandable presentation for policymakers and stakeholders. He has also published many articles for trade magazines, articles for edited books, conference proceedings, and selections of conference paper presentations.
Event Details:
Check-in begins at 4:30 pm at the MAC in downtown Portland. The presentation will begin at 5:00 pm, followed by drinks and hors d'oeuvres.
Please feel free to share this event with your friends and colleagues.
SEVEN YEARS LOCAL LENDING
Lending Over a Quarter Billion Dollars to Local Businesses
Community can be defined as "people living in somewhat close association". But being a "community bank" means more than being close in proximity.
Which is why at Lewis & Clark Bank, rule number one is that community is not a commodity. Being a Partner for Community means more than just donating time and money.
December 2013 marked Lewis & Clark Bank's seventh anniversary. It is with great pride that in those seven years the Bank has lent over a quarter billion dollars to local businesses.
To us, that is the meaning of a true Partner for Community.