LA PROVENCE
Partners for Authenticity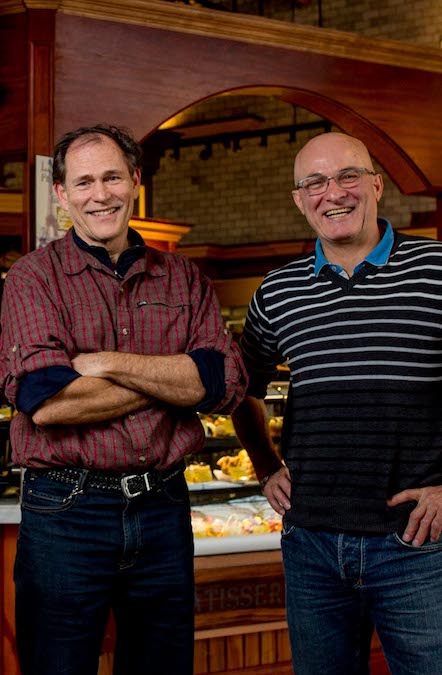 Over twenty years ago in Portland, Oregon, three French men had a problem in need of an original solution. When they could not find the kind of authentic rustic artisan bread they grew up on, Alain Machtelinckx, Didier Blanc Gonet, and Pascal Tisseur decided to do something about it. The result is
La Provence
—a vibrant community restaurant and bakery with seven Oregon locations, plus a commercial bakery and farm.
The company's restaurants are located in strong neighborhoods where both customers and staff are able to support the enterprise. While there is consistency throughout the company, each restaurant is free to shape the menu and customer experience to meet the local's needs.
Currently, La Provence employs 450 people. "We have low turnover, so something's working," says Alain. A clear focus on company culture, customer service, and quality control is what's working.
La Provence recently turned to Lewis & Clark Bank for refinancing of two of their nine properties. Alain says, "The bank is integral to our expansion and our mission. We need equipment and financial resources to thrive." He explains how owning their own real estate is part of the company's mission. "We didn't want to depend on the whims of a landlord, and owning our buildings gives us the flexibility and quality control we need."
Quality is a concept woven into the fabric of the La Provence brand. "We do everything ourselves," says Alain. He points to the tables and the draperies and says they're all made in-house. Only the chairs are purchased from a restaurant supplier. From the chocolate treats to the salmon and corned beef hash (two of their best-selling dishes), La Provence is as "Old Continent" as you can get in modern-day Oregon.
Bob Govig, Operations Manager at La Provence, says, "Customers tell us all the time how they were just in France, and how we take them back to that positive experience." Alain adds that comfort food helps make people happy and how that's a great business to be in.
As satisfying as it is for the leadership team to build La Provence into a dynamic retail business with thousands of loyal fans, running the business and managing the complexity is also a challenge. That is why La Provence relies on Lewis & Clark Bank for our straightforward processes, quick response times, and timely turnaround on loan applications. "We like a smaller bank that's responsive to our needs," says Alain.
What started in Lake Oswego in 1996 is now a favorite restaurant and bakery for Portland area diners. Like the French, many Oregonians maintain a strong preference for local farm-to-table food over industrial production. By tapping into the cultural zeitgeist in Portland, having a strong vision for the business, and the operational skills to materialize their big ideas, La Provence adds value to the communities where they operate. Lewis & Clark Bank looks for partners like La Provence who have the vision to pursue their dreams and the business acumen to build on them. When these partnerships come together, everyone wins—our partners win, their customers win, and the community wins.
"The bank is integral to our expansion and our mission. We need equipment and financial resources to thrive." -Alain Machtelinckx