ONE STOP AUTO WRECKERS
Partners for The Real Deal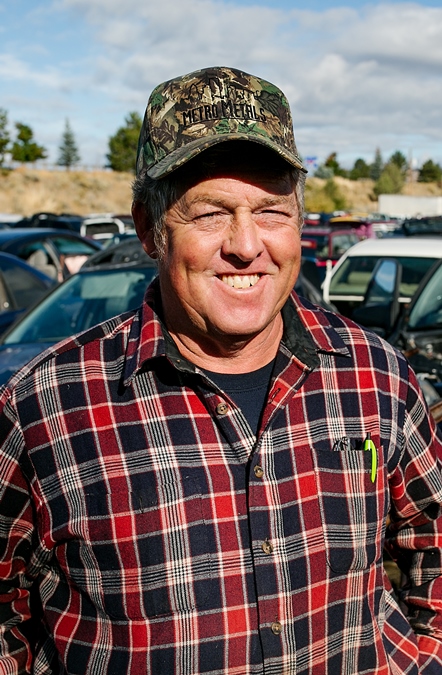 Bill Adams, owner of
One Stop Auto Wreckers
in Klamath Falls, is the kind of entrepreneur that Lewis & Clark Bank loves to support. His business isn't flashy. It's much better than that—it's solid.
Adams has been in the scrap metal business for almost 40 years, which is a success story of its own. Success in business isn't always about being first to market, it's often about how long you can endure. To endure 40 years in a volatile metals market takes skill, knowledge, and some luck for good measure.
Because Adams understands the complexity of the metal market, his small but mighty operation has adapted to many marketplace shifts over the years and now does business from tiny Lakeview, Oregon to Beijing, China and throughout the Pacific Rim.
"You never know what is coming in the next scrap load," says the ever-curious Adams. "I've been in recycling before recycling was cool."
With 14 acres of scrap and cars, One Stop Auto Wreckers diversifies its lines of business among bulk metal sales, car part salvage, and auto repair. Graduating from OIT's Auto Tech program the '70s, Adams has found his niche, and is proud to live and do business in Klamath Falls. Adams pays 100% medical insurance for his employees. So, it's not just the owner and operator who benefits from a productive business. Staff and satisfied customers also benefit. He has also been on the City Council for 21 years.
In the past, Adams tried to work with both a regional bank and a credit union, but both times he became frustrated with their faulty processes and wasted time. "They don't tell you upfront about how the long the process is going to go or where you are in it. I lost six months of time dealing with them," Adams reports.
By working closely with Lewis & Clark Bank's SVP/Southern Oregon Area Manager Bill Castle, Adams is the beneficiary of a
SBA 7a Express loan
, which is a line of credit that helps him manage inventory cycles and cash flow.
"He went the extra mile to understand my business and how it works." says Adams. "You don't find that level of attention anymore."
You're not going to read about this kind of thing in
Fast Company
, and there's no need to. Bill Adams is the real deal, master of all things metal.
"He went the extra mile to understand my business and how it works. You don't find that level of attention anymore." - Bill Adams