P & A METAL FAB, INC.
Partners for Made in the U.S.A.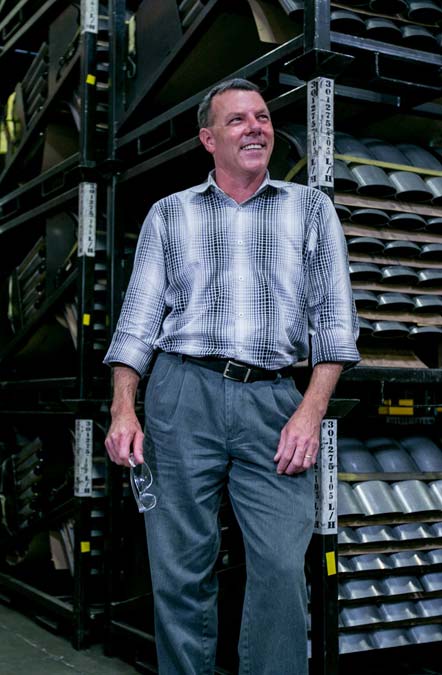 A manufacturing company is much more than a building full of precision machinery. It takes a team of talented, motivated workers to make "Made in the U.S.A." the quality guarantee it is.
This people-powered principle has guided
P&A Metal Fabrication
in Clackamas for decades, which helps to explain the deep loyalty among staff and customers (many of whom have been with the company for 20+ years).
To P&A Metal, running a successful business is straightforward: provide everything a customer needs, charge a fair price, and deliver the job on time - every time.
Dan Aronson is P&A Metal's President. Aronson's dad, Phil, started the company out of a two-car garage in 1978. Today, Aronson manages to keep traditions alive and values at the heart of the business, while simultaneously moving the company forward at the blinding speed of technology-fueled innovation.
P&A Metal's 90-plus employees work to meet the demand for customized metal, filling orders for companies like Precor, a global leader in fitness equipment, and BMW motorcycles, among others.
P&A Metal's business-to-business customers count on the state-of-the-art equipment and machine tools to handle their sophisticated metal fabrication needs. Laser cutting, fabrication, tubing, welding, powder coating - it's all done right by this passionate manufacturer in Clackamas.
In 1991, founder Phil Aronson sold the company to the Kyoshin Giken Company based in Japan, so he could enjoy a well-deserved retirement. His son Dan stayed on in senior management and later in 2007, he and another Japanese entity, Tsuguaki Takahashi, purchased the company and formed a new trans-Pacific partnership that offers the partners greater reach and new opportunities.
The secret to the company's prosperity is no secret. The Aronson and Takahashi families place a strong emphasis on their employees' well being and happiness - a value that crosses cultural lines.
"Buying all the equipment in the world, that's the easy part," says Aronson. "Hiring the right people and giving them the latitude to do their job well is key. When you decide to take care of your employees, like you should, it alleviates a lot of stress."
And alleviating the stress of business owners that need to navigate the loan process is a Lewis & Clark Bank duty, and that is why P&A Metal Fab keeps coming back. Being a Bankerpreneur means understanding the financial journey of a business stakeholder, and because we understand the mindset of running a business, we know people hate getting the runaround. That's not the kind of service only families appreciate; businesses of all sizes and cultures respect that perspective, too.
"Buying all the equipment in the world, that's the easy part. Hiring the right people and giving them the latitude to do their job well is key." -Dan Aronson