THE PHELPS-MONTGOMERY HOUSE
Partners for Shared Vision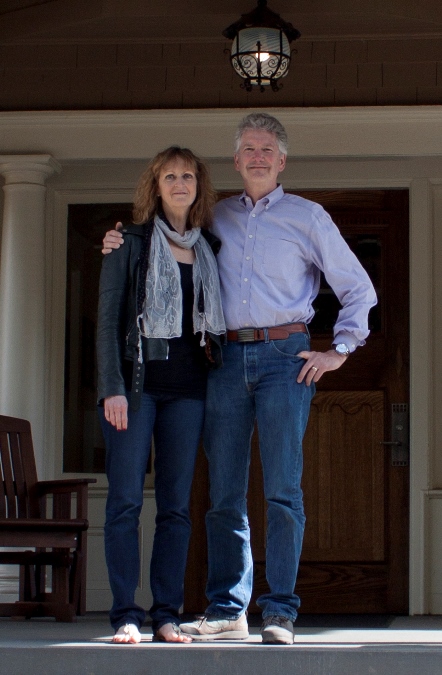 "One night Jeff met me at the door with a glass of wine," described Beth Bonness, "and said it's not gonna work."
But with determination, business savvy, and an experienced financial partner, it did work.
When an unexpected opportunity of a lifetime arose to move the historic
Phelps-Montgomery House
, a 1907 Portland Craftsman, within a block of their home, Jeffrey McCaffrey and Beth Bonness took on the one-of-a-kind project with confidence.
Jeff and Beth have lived in the Hawthorne neighborhood in southeast Portland since 1983. They raised their three daughters there. Jeff, a furniture designer, and Beth, a marketing professional, have seen their neighborhood change dramatically - and they have grown with it. Developing neighborhood properties outside their day jobs was a dream of theirs, and having built a duplex and a guest house on their own block within that time they became familiar and comfortable with income property and real estate development. "Jeff has the construction gene and I have the entrepreneur gene, so we're a perfect match," Beth says, "and as it turns out, we'd been doing our homework for this project, unbeknownst to us, for the past thirty years."
In a very small window of time in the fall of 2012, a real estate developer was planning on demolishing an historic home a block and a half away to put in an apartment building. The neighborhood was so upset about the home being torn down that they actually had candlelit vigils around the property. Jeff had a "crazy idea" - what if he could save the historic home by moving it onto the lot they had purchased a year before, but on which existing construction plans were too expensive to build? As a team, their "genes" took over. What came next was an immense bureaucratic labyrinth. Emotional ups and downs and thick red tape almost stopped the project dead in its tracks, but persistence paid off and the city was motivated by neighborhood support and the story's
news coverage
. It was such an undertaking that Beth is now writing a book about it. "Our spare bedroom looks like an FBI wall connecting the whole story."
Jeff and Beth needed financing to pull it all off. If they thought the city planning maze was difficult, wait until they talk to some banks. Jeff went to the largest community bank in the region. "I did the whole dance. It's a tough project to explain and I spent a ton of time with them. Way more than I should have! It was a grueling process of paperwork, seeking answers and waiting," he said, "and in the end they said no because they were used to doing bigger projects. But, they gave me a list of four other banks that might consider the project. So I called them all and Kirk was the only one that called me back. Lewis & Clark Bank had the courage to see our vision the way we did," Jeff says.
"They were super organized and looking for answers," says
Kirk Hansen
, VP/Commercial Lending, "and like many of our clients: good borrowers, unusual situation. I knew in my gut it was a winner."
Before long the Phelps-Montgomery House was lifted and rolling along a makeshift bridge of wood and steel pilings and tracks, eventually resting in place in the new lot. Looking at it today you wouldn't know it had ever moved.
"Lewis & Clark Bank had the courage to see our vision the way we did." -Jeff McCaffrey