THE SOCIETY HOTEL
Partners for Transformation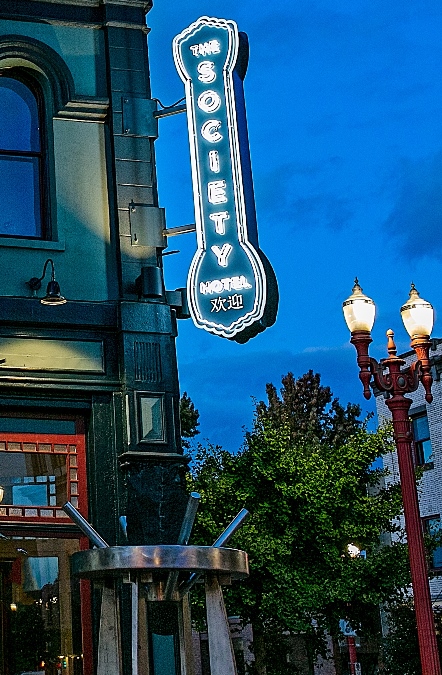 Long before hipsters and craft beer existed, taverns of various sorts hosted long-whiskered travelers, loggers, sailors, farmers, fishermen, miners, soldiers, and men of faith. Some wayward wanderers found themselves on the unfortunate end of Shanghai Tunnel fame. The Wild West was alive and well in Old Town Portland, which wasn't old at the time. Portland was the frontier, a place where anything was possible.
Maybe Portland is not all that different today.
For a group of enterprising young hoteliers, who recently teamed up to breathe new life into an historic Old Town building and invite new people into one of the most important urban neighborhoods in the city, anything
had to be possible
.
Once a safe haven in PDX's rough infancy, the 135 year-old Mariners Building—a building that hadn't been used in more than four decades—is livable again, reopening in 2015 as
The Society Hotel
. Projects of this magnitude are not for the hesitant, nor the faint of heart. In order to pull it off, proprietors Jonathan Cohen, Matt Siegel, Jessie Burke and Gabe Genauer first had to transform themselves and take on something they had never done before.
One million pounds of concrete later, the historic building has a new foundation and seismic anchors that are four times the original strength. That's revitalization on a grand scale and Lewis & Clark Bank is proud to partner with entrepreneurs of this ilk.
The Society Hotel proprietors agree that completing the construction phase of the project was the most challenging thing they've ever undertaken. The results of their can-do-attitude and do-it-yourself approach speak volumes. They chose not to hire a general contractor, saving 30% in the process. Gabe, who is the resident construction expert, was driven to make good use of the historic space. "What we've managed to do here, it's incredibly efficient," he notes.
Efficiency in funding was also critical to the project's success. "We needed clarity on whether or not the project was financeable," says Matt, "and other banks couldn't see the vision – or even come to the table. We wanted partners to be emotionally invested and have vision. This was a passion project and Lewis & Clark Bank saw that."
And now an entirely new group of adventurers from far and wide can book a pleasant room in an interesting, central location, all for a great nightly rate.
"Portland has higher standards for what travelers expect, and we're here to meet those expectations head on," says Jonathan. The rooms range from private suites to rooms or bunks with a shared bath, thus the hotel appeals to travelers on a budget and more upscale patrons at the same time.
"We are all travelers," adds Jessie, speaking about the team's penchant for movement about the globe. "We know what we like when we're in a foreign city, or an adventure closer to home. We want a refuge, but one that's in the middle of it all."
The Society Hotel is in the middle of it all, spearheading positive change in Old Town/Chinatown, one happy traveler at a time.
"We wanted partners to be emotionally invested and have vision." - Matt Siegel