Oregon Governor Kate Brown officially declared the week of October 16
th
as "Community Bank Week" in the state.
Community Bank Week is an annual event sponsored by the Community Banks of Oregon, a sister entity of the Oregon Bankers Association, and a chance for our team to honor community members and the incredible work they do in the community.
This year, we are focusing on
Pioneer Pantry at Oregon City High School
. Pioneer Pantry provides food to homeless and food insecure students for weekends and breaks, and sadly the need for this service is not diminishing.
Lewis & Clark Bank is conducting a food drive to support the non-profit organization and we will make a donation. If you'd like to donate food to benefit Pioneer Pantry, please drop off any non-perishable items at our 1900 McLoughlin Boulevard location throughout the month of October. Take a look at their Food Items Wishlist to help your generosity be even more impactful!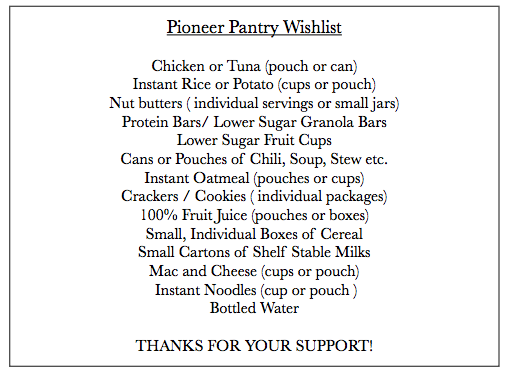 You are also invited to join us at our "Open House" from 3:00 p.m. to 5:00 p.m. on October 18
th
at our new headquarters building at 15960 South Agnes Avenue in Oregon City. Come meet the Lewis & Clark's leadership team, including Trey Maust and Jeffrey Sumpter, our Co-Founders and Co-Presidents, and mingle with other influential Oregon City community leaders.
If you like sweets, you'll love the cookies at the brand and cupcakes at headquarters from Sugar Street Bakery. We will also provide hot coffee, so please drop by in the late afternoon. Trey and Jeff will present a check to Pioneer Pantry's executive director at 4:00 p.m. See you there!