Meet the Bankerpreneurs®
Filter:
All
Executive Team
Banking Services
Administration
Lending Team
Board
Todd Liebow

Board Member


Todd S. Liebow is a retired commercial and industrial real estate appraiser who served the appraisal industry for 38 years. His practice focused on litigation support, properties suffering from detrimental conditions and property tax valuation analytics. Mr. Liebow has authored several articles on the ad valorem assessment system and has lectured frequently on tax and valuation issues. He is a founding Director and shareholder of Lewis and Clark Bank. He serves on their Board of Directors and is Chair of their Board Loan Committee and member of their Corporate Governance Committee. Mr. Liebow also owns and operates a commercial real estate investment and development firm specializing in urban infill sustainable development in Portland. Mr. Liebow was awarded the professional MAI designation in 1987 by The Appraisal Institute. He is a graduate of Lewis and Clark College, with a BA in Philosophy, with Honors, 1978.

Kevin Murphy, M.D.

Board Member


Dr. Murphy is a board certified orthopedic surgeon with fellowship training in sports medicine. His surgical expertise includes arthroscopy, joint reconstruction and orthopedic trauma. Dr. Murphy is currently an assistant team physician for the Portland Timbers professional soccer team, and provides orthopedic care at the Nike Sports Medicine Clinic. He also provides orthopedic support for several local high schools.

Michelle Rand

Board Member


Michelle has over thirty years of experience investing for individuals, businesses and charitable organizations. Her most recent position was with US Trust Company, managing over $200 million in client assets. She graduated from Reed College in 1981 with a B.A. in Economics. She received the Chartered Financial Analyst (CFA) designation in 1985. Michelle participates regularly in the CFA Continuing Education Program. Michelle occasionally speaks to groups on a variety of investment topics, including investing basics, value investing, and market risk management. She has also given testimony as an expert witness on investment matters. Michelle is married to Jon, and together they care for a virtual menagerie of animals. Michelle loves restoring, driving, and showing vintage cars. She also finds time to ride her horse Ruben.

Kennth B. Ulbricht

Board Member


Kennth B. Ulbricht
Ken Ulbricht is an Oregon State University graduate with Bachelor of Science in Business, emphasizing in Accounting, Finance, and Forest Products. He is a licensed accountant with the Oregon State Board of Accountancy practicing tax and financial accounting for more than 41 years. Mr. Ulbricht divides his time between practicing public accounting and real estate development. His accounting experience includes full cycle accounting, tax, mergers, and acquisitions from small to high net worth individuals and businesses.

Mr. Ulbricht was a founding board member and Chairman of Clatsop Community Bank. He has invested in and developed several real estate projects; and designed a successful three-party, tax-free exchange forest timber program. Mr. Ulbricht served as past president-Seaside Chamber of Commerce; past president - North Coast Land Conservancy; Rotary Club member; Clatsop Community College Foundation Board; Seaside Providence Advisory Board; Seaside Providence Foundation Board; and Clatsop County Economic Development Committee.

Trey Maust

Trey Maust

Executive Chairman

Trey Maust, co-founder of Lewis & Clark Bank, brings over twenty-five years of experience in banking, capital markets and financial services. He most recently served as the CEO of Sheltered Harbor, an industry initiative launched by the US financial services industry to enhance the sector's stability and resilience in the event of a destructive cyber-attack or other loss of operational capability. Prior to this role, he was the Bank's Co-President & CEO and prior to that, the Chief Financial Officer of Lewis & Clark Bank. Previous to co-founding Lewis & Clark Bank, he served as the Chief Financial Officer of another Portland-area community bank.

Trey began his career at Deloitte in Portland, focusing on financial audit; FDICIA and internal control attestation; U.S. GAAP and SEC reporting; and post-merger integration engagements. He later transferred to Deloitte's Merger & Acquisition Services Group in New York, where he was a resource nationally for bank acquisitions, conducting financial and operational due diligence on transactions in a variety of industries for financial sponsors and strategic buyers. Trey was also involved in domestic and international acquisitions and divestitures for Honeywell International.

Trey is extensively involved in local and national policy efforts on behalf of the banking industry, including serving on multiple advisory and fiduciary boards of for-profit and nonprofit organizations.

Trey Maust

Executive Chairman



Trey Maust, co-founder of Lewis & Clark Bank, brings over twenty-five years of experience in banking, capital markets and financial services. He most recently served as the CEO of Sheltered Harbor, an industry initiative launched by the US financial services industry to enhance the sector's stability and resilience in the event of a destructive cyber-attack or other loss of operational capability. Prior to this role, he was the Bank's Co-President & CEO and prior to that, the Chief Financial Officer of Lewis & Clark Bank. Previous to co-founding Lewis & Clark Bank, he served as the Chief Financial Officer of another Portland-area community bank.

Trey began his career at Deloitte in Portland, focusing on financial audit; FDICIA and internal control attestation; U.S. GAAP and SEC reporting; and post-merger integration engagements. He later transferred to Deloitte's Merger & Acquisition Services Group in New York, where he was a resource nationally for bank acquisitions, conducting financial and operational due diligence on transactions in a variety of industries for financial sponsors and strategic buyers. Trey was also involved in domestic and international acquisitions and divestitures for Honeywell International.

Trey is extensively involved in local and national policy efforts on behalf of the banking industry, including serving on multiple advisory and fiduciary boards of for-profit and nonprofit organizations.

Jeffrey Sumpter

Jeffrey Sumpter

President & CEO

Contact:

F: (503) 212-3199

Jeff Sumpter, co-founder of Lewis & Clark Bank, has over twenty five years of banking experience. He was most recently the Co-President/CEO and prior to that the Chief Lending Officer of Lewis & Clark Bank. Prior to the establishment of Lewis & Clark Bank, Mr. Sumpter was the Chief Lending Officer for a local community bank, and held various branch management and sales positions at a super-regional bank. In addition to serving on Lewis & Clark Bank's board, Mr. Sumpter is the Chair-Elect of the

Oregon Bankers Association

, and serves on the board of the

Western Bankers Association

, the board of trustees for

Oregon BankPAC

, and is the Chair of the

Providence Willamette Falls Medical Foundation

. He also previously served as chair of the Community Banks of Oregon, is a past President of Gladstone Rotary Club, and was recognized as one of the Oregon Forty under 40 recipients in 2009 by the Portland Business Journal. He is also a Veteran of the United States Navy.

Jeffrey Sumpter

President & CEO

F: (503) 212-3199




Jeff Sumpter, co-founder of Lewis & Clark Bank, has over twenty five years of banking experience. He was most recently the Co-President/CEO and prior to that the Chief Lending Officer of Lewis & Clark Bank. Prior to the establishment of Lewis & Clark Bank, Mr. Sumpter was the Chief Lending Officer for a local community bank, and held various branch management and sales positions at a super-regional bank. In addition to serving on Lewis & Clark Bank's board, Mr. Sumpter is the Chair-Elect of the

Oregon Bankers Association

, and serves on the board of the

Western Bankers Association

, the board of trustees for

Oregon BankPAC

, and is the Chair of the

Providence Willamette Falls Medical Foundation

. He also previously served as chair of the Community Banks of Oregon, is a past President of Gladstone Rotary Club, and was recognized as one of the Oregon Forty under 40 recipients in 2009 by the Portland Business Journal. He is also a Veteran of the United States Navy.

John A. Lende, CPA

Cheryl Boedigheimer

Heather Anderson

Carrie Buswell

Dawn Curry

Jami Reynolds

Catherine Weissert

Marianne Mora

Stephanie Wells

Mallory Litehiser

Angela Pearson

Tracy Anderson

Sarah Luna

Debbie Folgner

Kelli Kurns

Janne Meyer

Blanca Smith

Kevin Conwell

Jack Ficken

Chad Marting

David Sumpter

Ron Harold
About the Bank
HISTORY
Focused. Two entrepreneurial minds, a group of community bankers, along with an experienced Board of Directors, formulated the operating plan to provide tailored financial services to clients with speed, flexibility, and local decision making. Headquartered in Oregon City, Oregon, Lewis & Clark Bank was established as a state-chartered commercial bank in December, 2006. The founders envisioned a locally based bank focused on providing personalized services to meet the needs of its clientele, and one whose management would make decisions based on interactions with the community and an understanding of local needs and circumstances.
FUTURE
Watch us. Lewis & Clark Bankerpreneurs share the entrepreneurial spirit with their clients who also own and have started their own businesses. Growth is a goal. But, more importantly, to be the resource and destination for small businesses who want to expand and be woven into the business fabric of their communities. Can we be more than a bank? Lewis & Clark Bank is a catalyst for organizations that positively impact all those around them. Beyond rates and all things commodity, Lewis & Clark Bank will continue to be the go-to expert and provider of valuable small business advice.
Our Community
A NICE PLACE TO SETTLE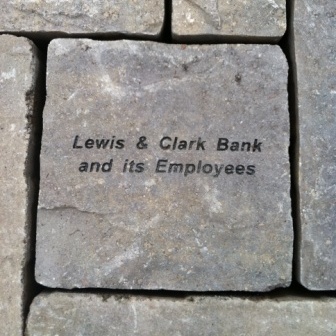 Community can be defined as "people living in somewhat close association." But being a "community bank" means more than being close to people. Which is why at Lewis & Clark Bank, rule number one is that community is not a commodity. Being a Partner for Community means more than just making donations. It means that the people in the bank, and we as a company, show that Lewis & Clark Bank is invested in its community... a true Partner for Community.

Proudly headquartered in Oregon City, Lewis & Clark Bank is a Partner for Community beyond cutting checks. Giving money is important; however, it is difficult to attain a "close association" strictly by donating funds. Lewis & Clark Bank believes community is truly realized through the passions and commitments of its employees and in their close proximity to the specific need. Employees' interactions, involvement, commitments and charitable contributions cause close association, or community. Our community partnerships are driven in large part by the passions found in the service of our employees.

One example of such a partnership can be found in The Children's Center of Clackamas County. From the Bank's inception, we wanted philanthropic activities to be local and meaningful. The Bank and its employees focus on causes close to their hearts and contribute through donations, sponsorships, and volunteer hours. The Children's Center is the sole child abuse assessment center in Clackamas County. Lewis & Clark Bank and its employees committed to the Children's Center's capital campaign to open their new and expanded facility, which they successfully did in April 2011. Employees created "jeans days" where they were invited to wear blue jeans to work so long as they donated at least $5 each to a fund that would go to the Children's Center. The Bank also pledged to match the employees' efforts. Also of note, when other banks shied away from financing the new project because it didn't fit in their "box," Lewis & Clark Bank stepped up and found a way to solve the one-of-a-kind deal.

Another Partner for Community example is the relationship with the Clackamas Community Land Trust, where their mission is to provide permanently affordable homeownership opportunities and related educational resources to people of modest means. The CCLT just completed its newest housing community called Juneberry Lane where Lewis & Clark Bank helped finance the construction. Juneberry Lane is the first residential project to be certified as an Earth Advantage Community. Each of the 12 homes are designed to meet the LEED-Home standard at the Platinum level. Not only does Juneberry Lane help families, but it has also become a growing asset of the community that Lewis & Clark Bank is proud to be associated with.

Lewis & Clark Bank sees its role as a supporter of small business in a similar manner as non-profits and organizations that help those in need. Whether you own a dental practice, a dairy goods delivery company, or a gas station, the health of your business is important to the health of the community and Lewis & Clark Bank is happy to hear your story. Give us a call and let's see if we can be your Partner for Business and Community.


Join the Team