Made In America:
A Smart Move for A Growing Number of Manufacturers
PORTLAND - The after-work workout crowd is filtering in to the Multnomah Athletic Club, but for some entrants to this posh Northwest Portland locale, the business day is not yet over.

Nearly 100 clients and friends of Lewis & Clark Bank are gathered to hear from Dr. Tom Potiowsky, director of Northwest Economic Research Center and chair of the economics department at Portland State University. This is his third in a series of bankerpreneur-hosted talks on economic trends.
Today's topic: "Sourcing the Shore: Is the U.S. becoming the overseas manufacturer?"
Potiowsky loosens up the audience with a touch of homespun humor before outlining how American manufacturing has naturally progressed from a reliance on outsoucing and offshoring to today's more favored reshoring and onshoring practices.
Potiowsky says the growing impetus for reshoring is primarily a need for quality control and a desire to be nearer the source of innovation and means of production. In addition, government instability overseas and more flexible labor organizations at home - especially when compared to Europe - is increasingly attractive to American manufacturers.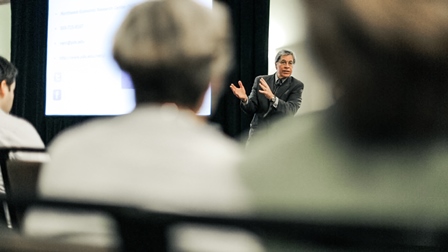 "Now is a good time to expand (your business) in intelligent ways," suggests the professor. Business people with a skill for taking calculated risks can capitalize on the low cost of money at this time, he believes.
Of course, Potiowsky is an economist and therefore contractually obligated to deliver some dismal news. Student loan debt is skyrocketing along with the cost of college tuition.
Potiowsky points out how student debt is now the number two largest debt held by American households, after mortgage debt. "We don't want to price people out of upward mobility," he says. Think about who buys homes, he challenges.
Asked by an audience member how he rates the current recovery, Potiowsky says the economy "has been resilient," but he worries about future moves by the Federal Reserve.
Stay tuned for more Strategic Business Series lecture presentations in the future as Lewis & Clark Bank continues to the go-to resource for business advice and provide learning opportunities for clients and supporters of the bank.

The chart above shows the percent change in wages between China and the US. The two charts suggest instability in China's economy, particularly in terms of manufacturing and exports.
The chart below shows declining Chinese exports vs. stable and slowly rising US exports.
Potiowsky explained issues in China (such as rising wages, limited pools of skilled labor, transportation costs, quality control, US innovation, government instability, and labor laws and unions) that are causing businesses to begin moving back from overseas, and to Oregon.